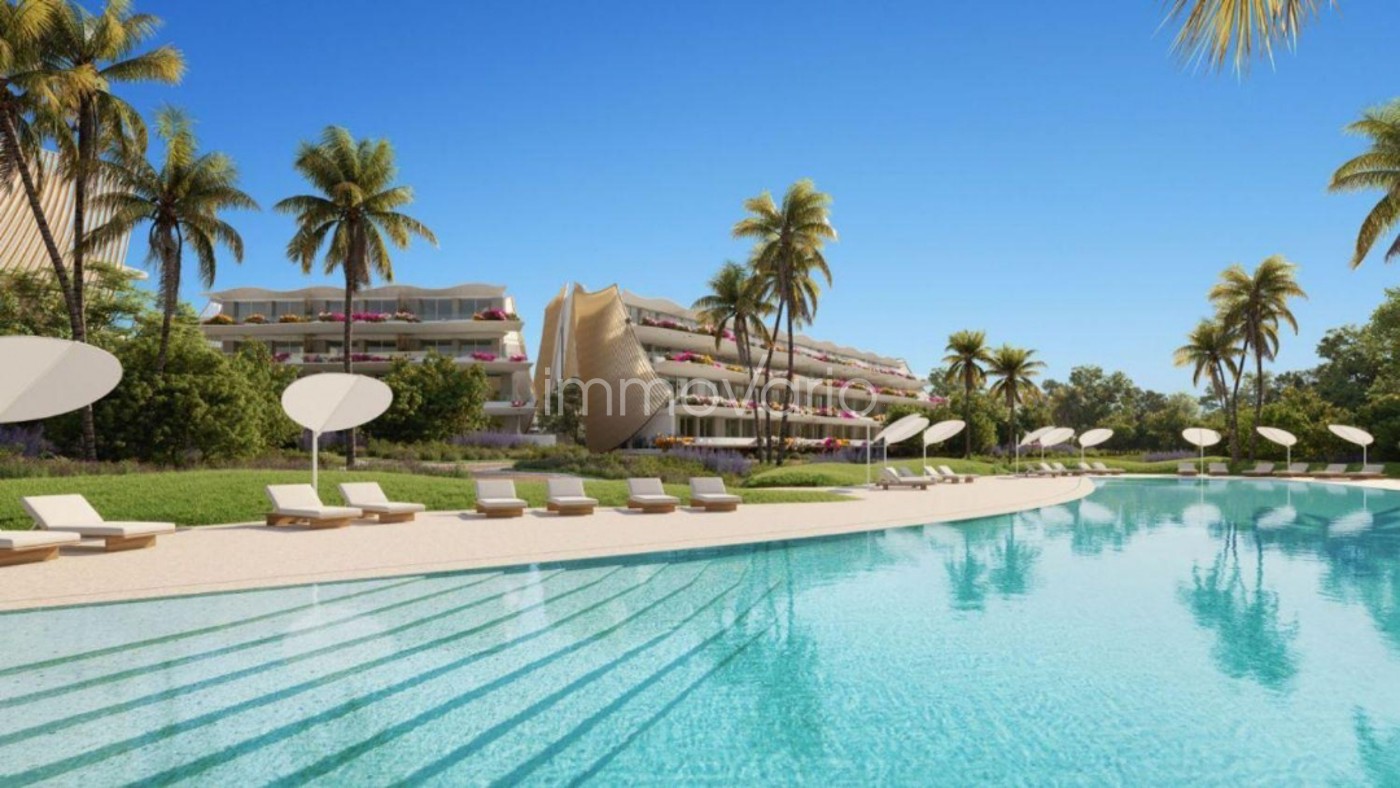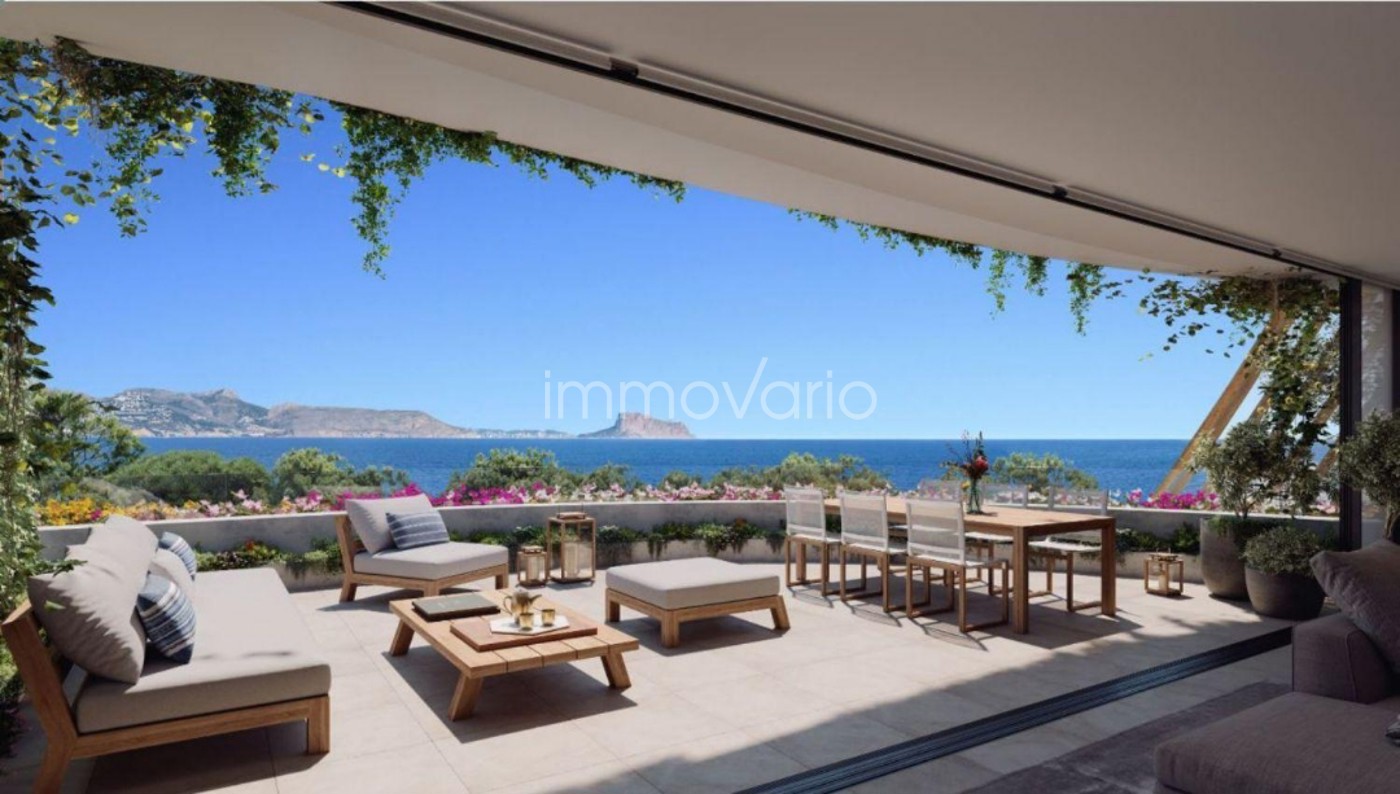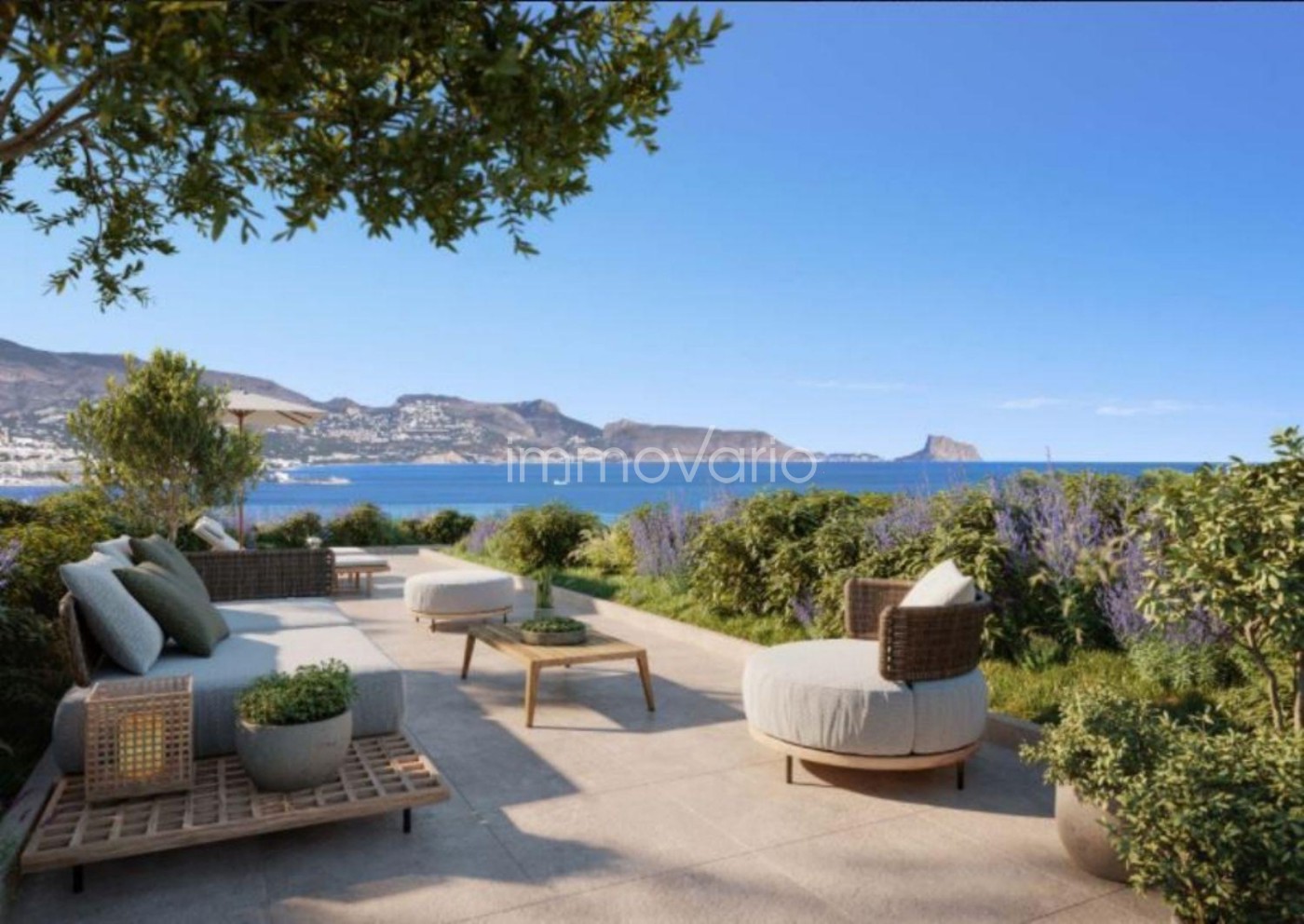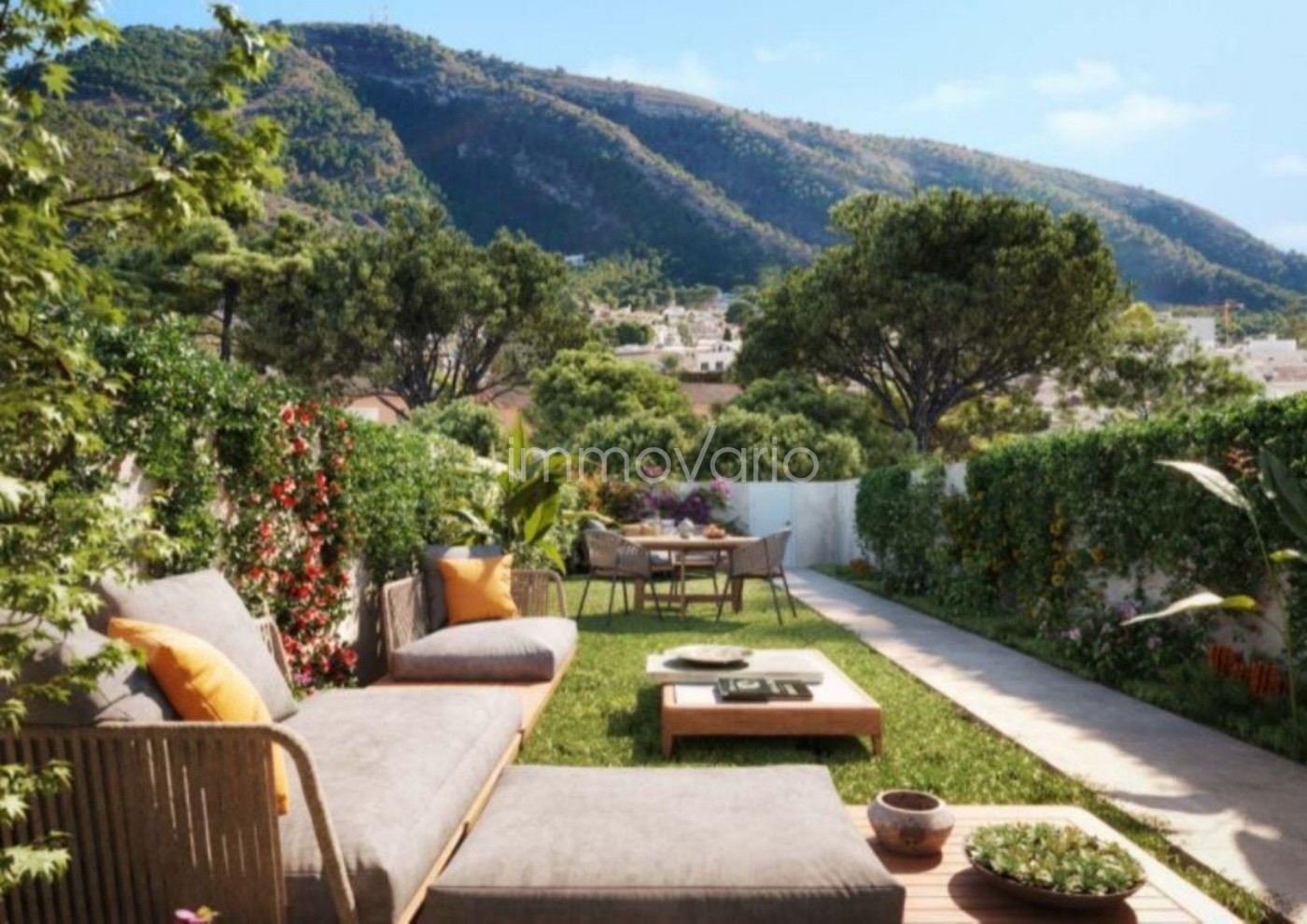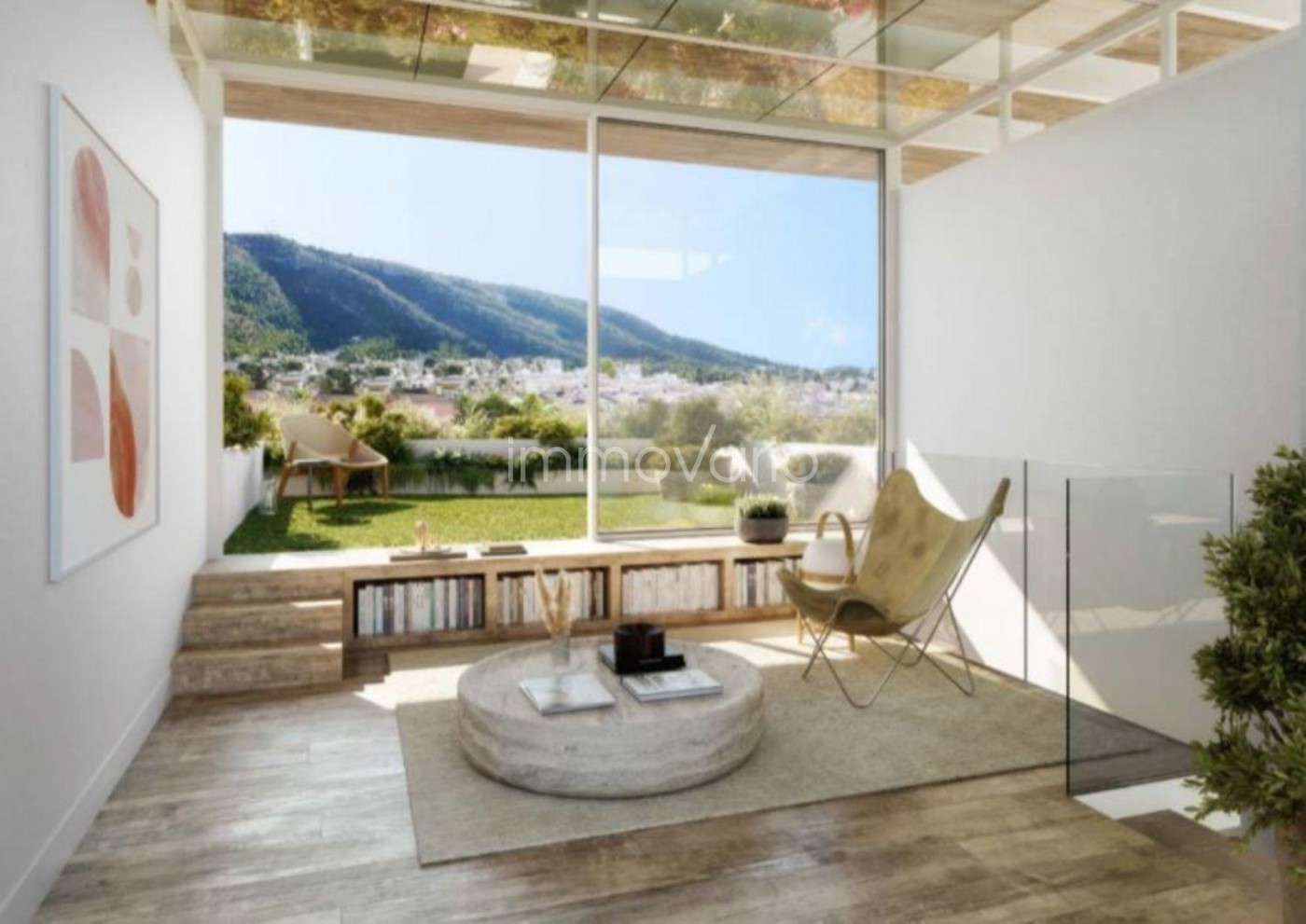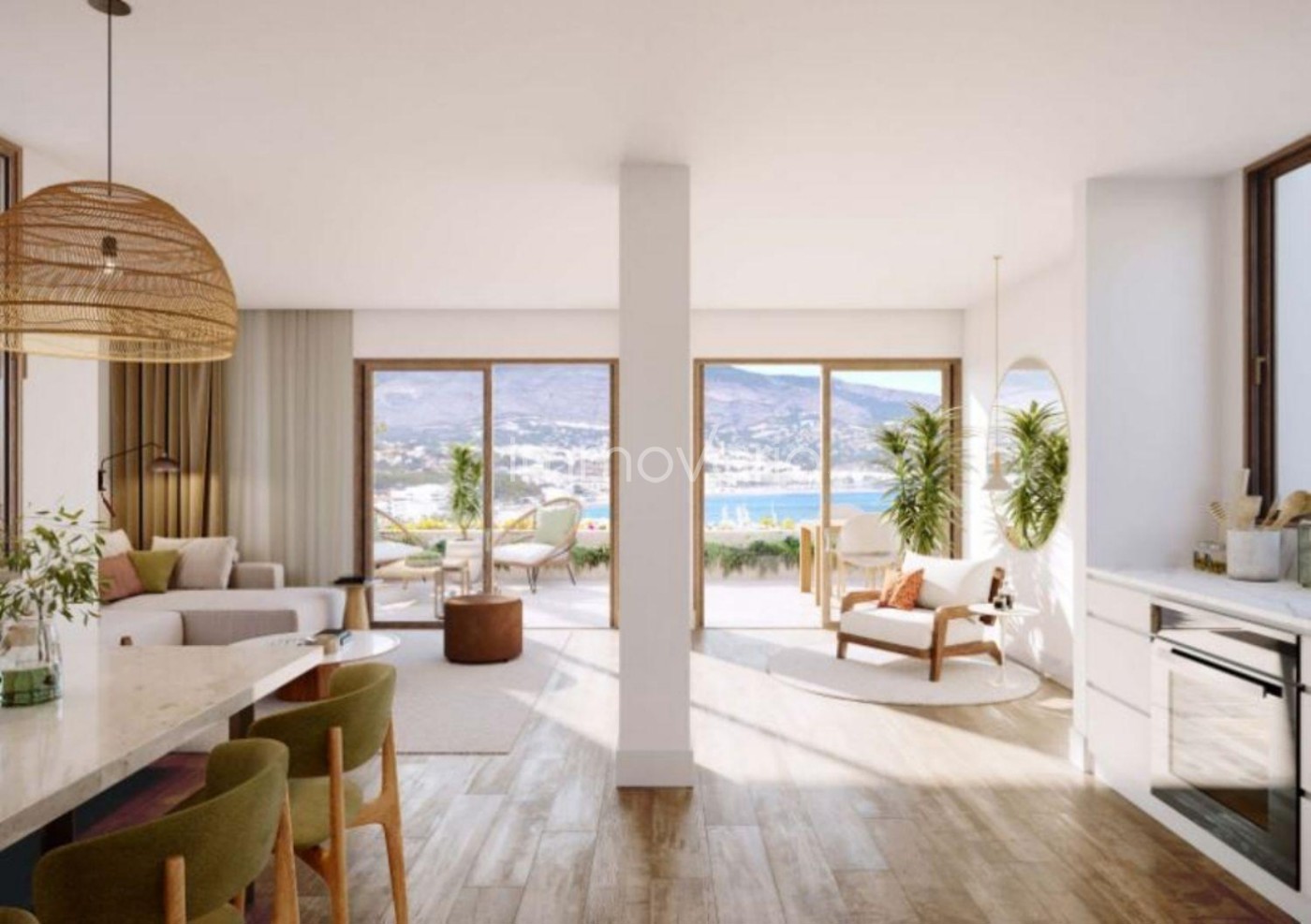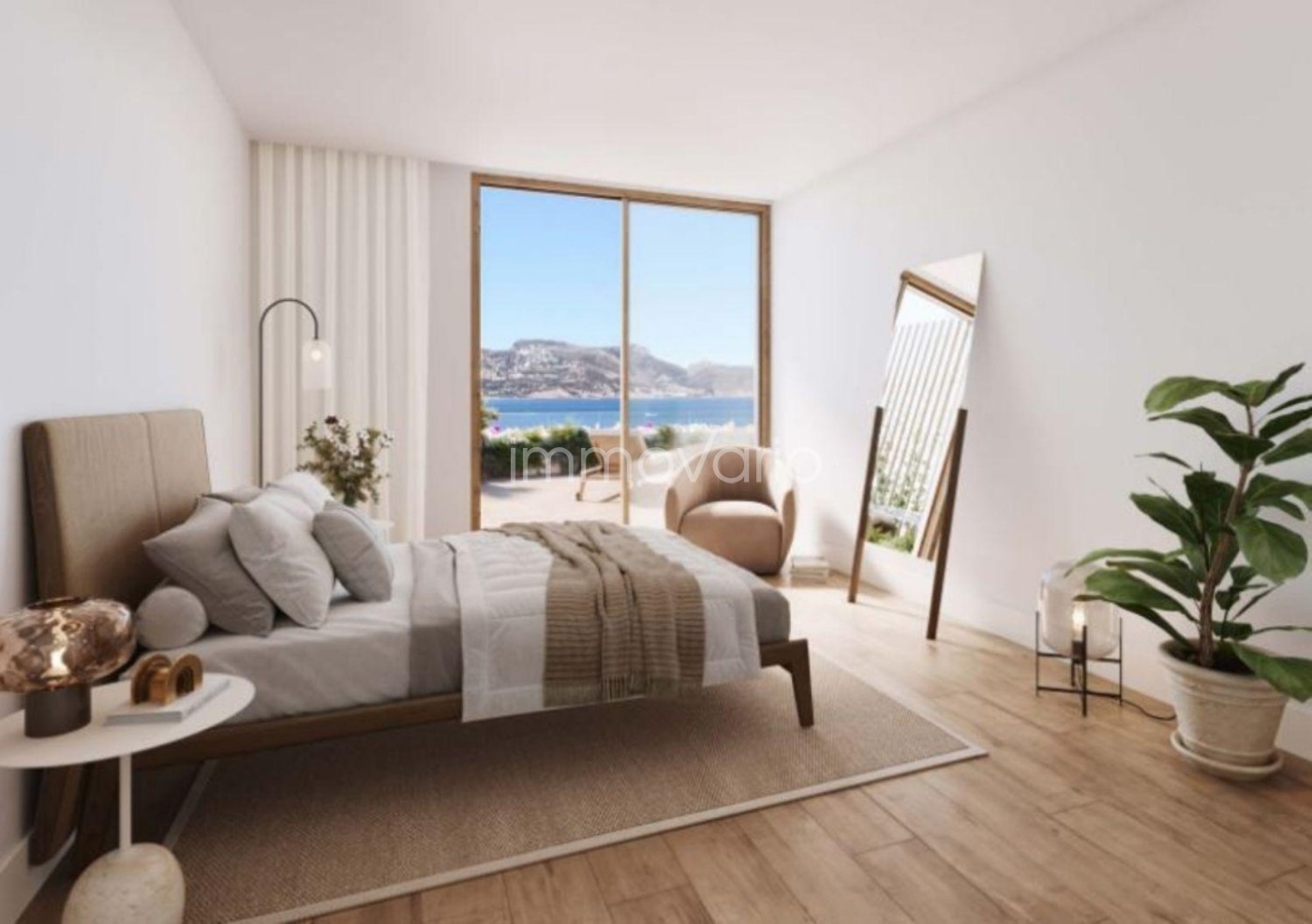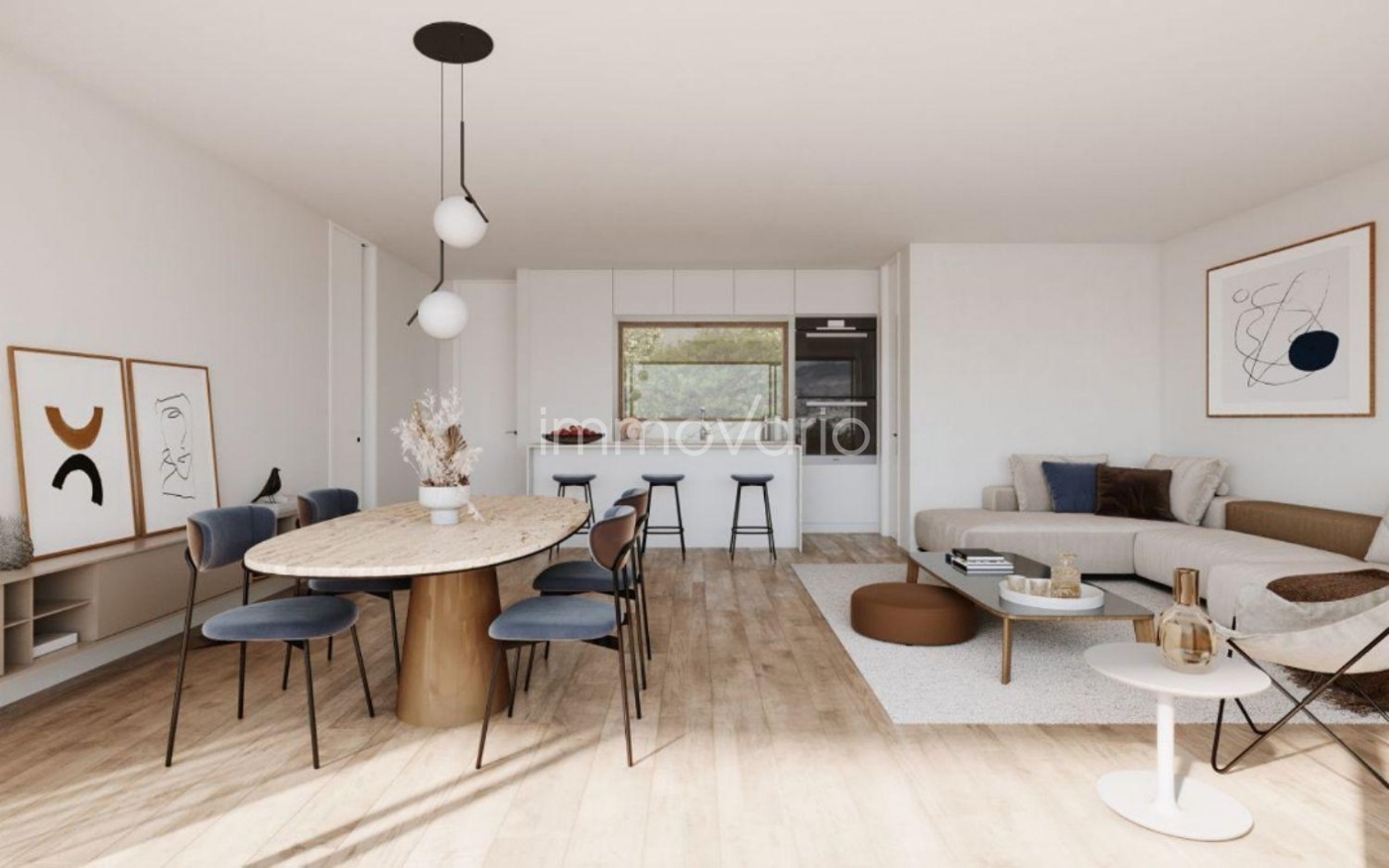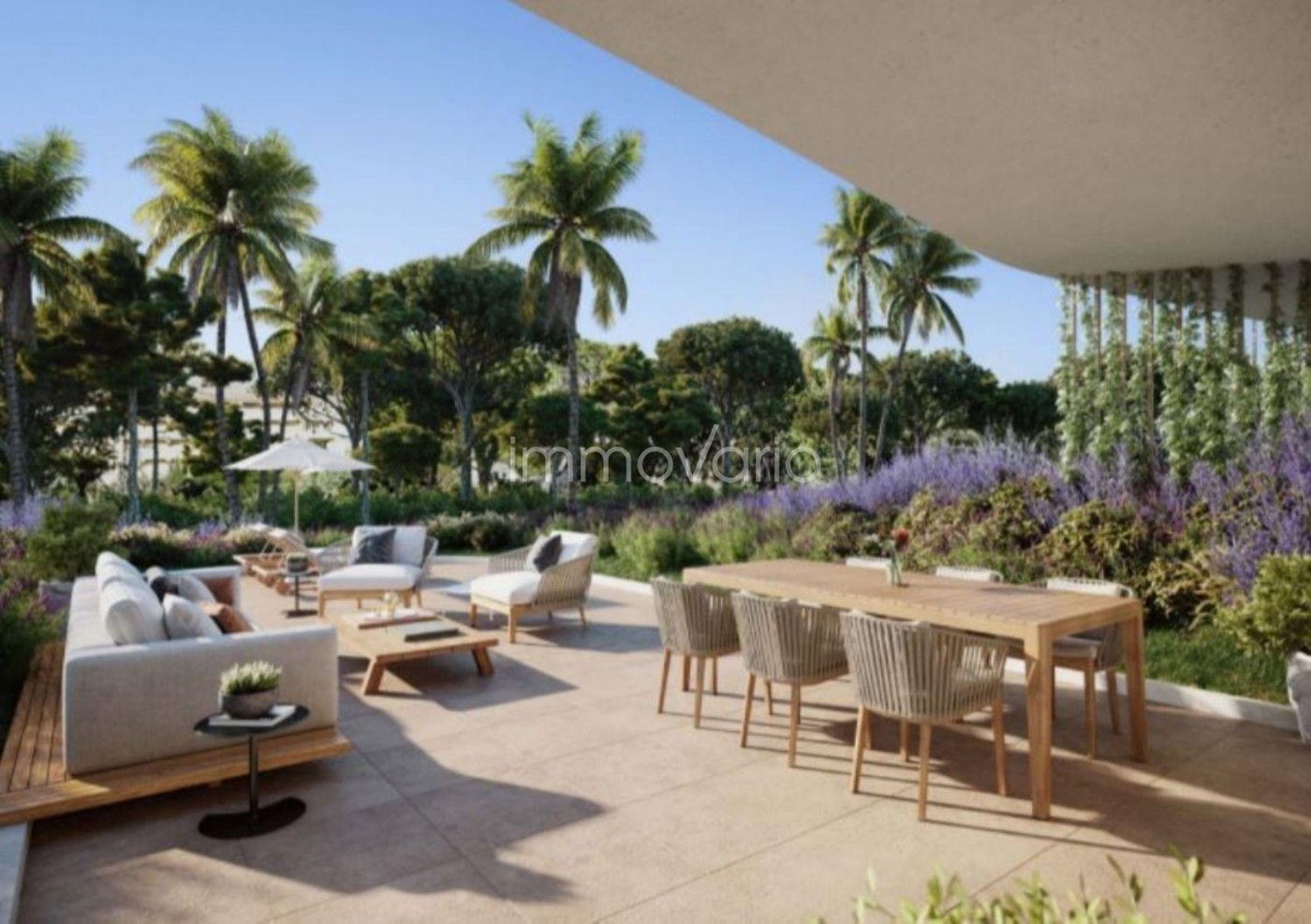 Apartment for sale Alfaz del Pi
Object-ID: 553666
Specifications
Bedrooms: 2
Bathrooms: 2
Built size: 115 m2
Type: Middle floor apartment
Swimming pool
DELFIN NATURA!Located on a plot of more than 30 000 m2, the complex is situated in a totally consolidated environment and in the best location of Albir beach. The Urbanization will be totally closed in its perimeter offering a high degreeof security and tranquillity in the heart of Albir. It will also have a systemof video surveillance and access will be no roads on the surface and it will only be possible to drive on itsindoors on foot or by the buildings, and on the different levels of the interior urbanization,there will be different ornamental water sheets and several swimming pools. Likewise,will also have a heated indoor swimming first phase has 82 flats of 1, 2, 3 and 4 bedrooms, from 80m2 built plus terraces and exterior spaces, with garage and storage room. They have been designed to achieve amplitude, luminosity, quality and athat connects the exterior spaces with the interior ones. But if there is one thing that makes the flats in this urbanization unique, it is its large gardens on the ground floor and its wide terraces with surfaces of between 20 and more than 130m2, from where you can see the sea and the natural park. Within the urbanization there will be the services of a Resort, but there will also beof a wide range of leisure activities without leaving the urbanization: Concierge service with airconditioned parcel reception. Eparking with recharging points for electric and hybrid vehicles on demand. Bicycle parking and maintenance area. Separate washing areas for vehicles and bicycles. Next to the outdoor swimming pools there will be a Pool Bar and a Sun Deck equipped with sunbeds, parasols and different furniture for sunbathing. There will also be a tennis and paddle court. Integrated in the garden is the Yoga Studio. A fully equipped gymnasium and sauna. Coworking and reading room. Multipurpose community room with Gourmet room & wine cellar. Toy library. Cinema room Nautical Warehouse. Airconditioned waste from 293 000 euros.
URBANIZACIÓN DELFIN NATURA!Ubicado en una parcela de más de 30 000 m2, el complejo está situado en un entorno totalmente consolidado y en la mejor ubicacion de la playa del Urbanización estará totalmente cerrada en su perímetro ofreciendo un alto gradode seguridad y tranquilidad en pleno centro del mismo, contará con sistema de video vigilancia y control de habrá viales en superficie y únicamente se podrá circular por su interior a pie o en a los edificios, y en los diferentes niveles de la urbanización interior, existirán diferentes láminas de agua ornamentales y varias mismo, también dispondrá de piscina interior primera fase cuenta con 82 apartamentos de 1, 2, 3 y 4 dormitorios, desde 80m2 construidos más terrazas y espacios exteriores, con garaje y sido diseñados para lograr amplitud, luminosidad, calidad y una distribución que conecta los espacios exteriores con los si algo hace único los apartamentos de está urbanización, son sus grandes jardines en planta baja y sus amplias terrazas con superficies de entre 20 y más de 130m2, desde donde se podrá ver el mar y el parque de la urbanización se dispondrá de los servicios propios de un Resort, pero también se dispondrá de una amplia oferta de ocio sin salir de la urbanización: . Servicio de Conserjería con recepción de paquetería climatizada. Eparking con puntos de recarga para vehículos eléctricos e híbridos bajo demanda. Zona de aparcamiento y mantenimiento de bicicletas. Zonas de lavado para vehículos y bicicletas diferenciadas. Junto a las piscinas exteriores se dispondrá de Pool Bar y un Sun Deck equipado con tumbonas, sombrillas y diferente mobiliario para poder tomar el sol. Contará también con pista de tenis y de pádel. Integrado en el jardín se encontrará el Yoga Studio. Gimnasio equipado y sauna. Coworking y sala de lectura. Salón comunitario multiusos con sala Gourmet & wine cellar. Ludoteca. Sala de cine. Almacén Náutico. Cuartos de basura a partir de 314 000€.
URBANIZACIÓN DELFIN NATURA!Situé sur une parcelle de plus de 30 000 m2, le complexe se trouve dans un environnement totalement consolidé et dans le meilleur emplacement de la plage d'Albir. L'Urbanisation sera totalement fermée dans son périmètre offrant un haut degréde sécurité et de tranquillité au c ur d'Albir. Elle disposera également d'un systèmede la vidéosurveillance et du contrôle d' n'y aura pas de routes en surface et il ne sera possible de circuler que surà l'intérieur à pied ou à des bâtiments, et sur les différents niveaux de l'urbanisation intérieure,il y aura différentes nappes d'eau ornementales et plusieurs piscines. De même,disposera également d'une piscine intérieure première phase comprend 82 appartements de 1, 2, 3 et 4 chambres à coucher, à partir de 80m2 construits plus des terrasses et des espaces extérieurs, avec garage et débarras. Ils ont été conçus pour obtenir une amplitude, une luminosité, une qualité et unequi relie les espaces extérieurs aux espaces intérieurs. Mais s'il y a quelque chose d'unique dans les appartements de ce développement, ce sont leurs grands jardins au rezdechaussée et leurs grandes terrasses d'une surface comprise entre 20 et plus de 130m2, d'où l'on peut voir la mer et le parc naturel. Dans le cadre de l'urbanisation, vous disposerez des services d'un Resort, mais vous aurez égalementd'un large éventail d'activités de loisirs sans quitter l'urbanisation: Service de conciergerie avec réception de colis climatisée. Eparking avec points de recharge pour les véhicules électriques et hybrides à la demande. Zone de stationnement et d'entretien des vélos. Zones de lavage séparées pour les voitures et les vélos. À côté des piscines extérieures, il y aura un Pool Bar et un Sun Deck équipé de chaises longues, de parasols et de différents meubles pour prendre des bains de soleil. Il y aura également un terrain de tennis et de paddle. Intégré dans le jardin, vous trouverez le studio de yoga. Gymnase et sauna équipés. Salle de travail et de lecture. Salle communautaire polyvalente avec salle gastronomique et cave à vin. Ludothèque. Salle de cinéma Entrepôt nautique. Salles à ordures à partir de 293 000 euros.
URBANISIERUNG DELFIN NATURA!Der Komplex befindet sich auf einem Grundstück von mehr als m2 in einer vollkonsolidierten Umgebung und in bester Lage am Strand von Urbanisation wird in ihrem Umkreis komplett geschlossen und bietet ein hohes Maß an Sicherheit und Ruhe im Herzen von wird es über ein Videoüberwachungs und Zutrittskontrollsystem wird keine Straßen auf der Oberfläche geben und es wird nur möglich sein, sich zu Fuß oder mit dem Fahrrad darin zu die Gebäude herum und auf den verschiedenen Ebenen der inneren Urbanisation wird es verschiedene Zierwasserflächen und mehrere Schwimmbäder wird es ein beheiztes Hallenbad erste Phase hat 82 Wohnungen mit 1, 2, 3 und 4 Schlafzimmern, ab 80m2 gebaut plus Terrassen und Außenflächen, mit Garage und wurden entwickelt, um Geräumigkeit, Helligkeit, Qualität und eine Aufteilung zu erreichen, die die Außenräume mit den Innenräumen wenn etwas die Wohnungen in dieser Urbanisation einzigartig macht, sind es die großen Gärten im Erdgeschoss und die großen Terrassen mit Flächen zwischen 20 und mehr als 130 m2, von denen aus Sie das Meer und den Naturpark sehen der Urbanisation werden die Dienstleistungen eines Resorts zur Verfügung stehen, aber auch ein breites Angebot an Freizeitaktivitäten, ohne die Urbanisation zu verlassen:.ConciergeService mit klimatisierter mit Ladestationen für Elektro und Hybridfahrzeuge auf und Waschplätze für Fahrzeuge und den Außenpools wird es eine Poolbar und ein Sonnendeck mit Sonnenliegen, Sonnenschirmen und verschiedenen Möbeln zum Sonnenbaden wird auch einen Tennis und PaddleTennisplatz den Garten integriert wird das Yoga Fitnessraum und und mit Gourmet & ab €.
... more >>